Who is behind DoeValley Standard Poodles?
I would like to take this opportunity to introduce myself and family, give you some background and tell you about my breeding program.  First, my name is Danielle Rouleau.  I'm a Certified Veterinary Technician working at Adams Animal Hospital since 1997.  I have recently been promoted to Practice Manager.  My fiance David is a loving stay at home dad to our young son Aaron.
Why Poodles?
I got involved in Standard Poodles sometime in 2002 when my (now ex)boyfriend and I decided to get a dog, one that could also hunt.  Knowing that we didn't want a Lab or Golden we researched many different breeds.  I stumbled upon the Standard Poodle, the original water retriever.  We instantly fell in love with everything about them, their intelligence, beauty, versatility etc.  We talked to family, friends, and coworkers about our desire to own and train a hunting Poodle.  Most laughed at the thought, a hunting Poodle, they can't do that!  As a matter of fact they can and do hunt, quite well actually.  Our first Standard Poodle was "Ruger", When the Gunsmoke Clears RN, JH, CGC, WC, WCX.  He was a great dog and we made a great working team.  Everything we tried we succeeded at.  I learned so much from him.  I learned that one Poodle wasn't enough.  By this time we tried out almost all of the performance and companion events and I was intrigued by the Poodles in the breed ring.  That haircut was finally starting to grow on me, even more so after learning it once served a purpose.  After some trying I learned something else, getting your feet wet in the Standard Poodle con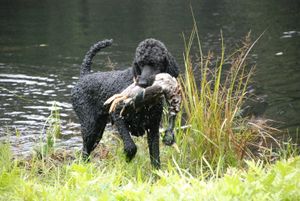 formation ring is hard.  I searched for over 18mths trying to find someone to give me a chance with a show prospect and a contract that was fair and one that I could abide by.  Gloria from Tintlet offered us a 10 wk old cream female puppy.  We got Wigeon, UKC CH Tintlet's Classic First Stop CD, RA, CGC, RATI, WC, VC.  I tried growing out show coat and failed before she turned a year.  Then came 8wk old Dagmar, UKC CH Cantope Silver Extraordinaire CD, RA, CGC, WC, RATI, HIT, VCX a silver female.  I tried growing coat on this one too!  This time we made it through coat change, two summers of swimming and during her second season on birds I f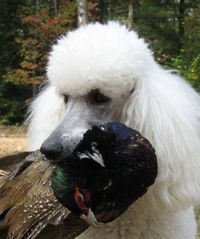 ailed again.  She came back from hunting one day with two pheasants, ears full of grass and burrs, and a soaking wet muddy coat again.  As the journey has continued I've had the opportunity to raise and train some really great dogs and hope I continue to have the chance in the future.  Over the past 12 years I have shown and titled our SPoos in UKC Conformation, AKC Rally & Obedience and visited our local nursing home occasionally with our Certified Therapy Dog.   I have also competed in and titled our SPoos in AKC Hunt Tests for Retrievers and the PCA Working Certificate & WC Excellent Tests for Poodles.  We have also done a little sheep herding, agility, and Barn Hunt for fun.
I bred my first litter in 2006.
 
Where health, temperament & the breed standard are equally important.  Home to the truly versatile poodle.