What do you get when you purchase a DoeValley Standard Poodle.....



Breeding a litter of DoeValley Standard Poodles starts well before it's time to mate the parents, sometimes two or more years in advance.  We have spent countless hours researching pedigrees, calculating coefficients of inbreeding and other measures of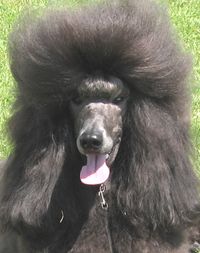 diversity, proving the parents in conformation and performance events, acquiring all health testing, having pre-breeding exams, ultrasounds etc.  The dam is kept in optimal condition before, during and after her pregnancy ensuring her health and her offspring's excellent health and temperament.  We choose a breeding pair based on how their individual health, temperament, conformation/structure and genetics compliment each other, not on which stud is most convenient or the local champion everyone else may be using.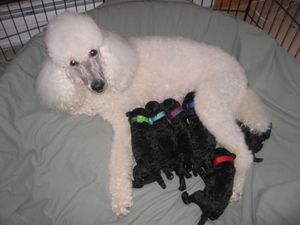 Our puppies are raised in our home, a single litter at a time.  Puppies are whelped in our spare bedroom that is transformed into a well equipped puppy nursery.  I assist each birth, breaking the sac, drying each pup off, weighing, and marking each on a chart. I sleep along side the brood for the first 2wks.  Puppies are individually handled multiple times a day by David and I as well as our young son, Aaron.  In addition we use the Early Neurological Stimulation Program.  This has been shown to have many lasting benefits including dogs that are more tolerant to stress and resistant to disease. 

Our puppies start using a litterbox at 2.5wks of age.  Yes, before they can even walk they are learning about where and where not to potty.  Puppies begin to potty outside on a regular schedule by 5wks of age.  When their routine is continued in your home,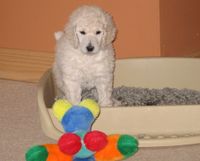 puppies rarely have accidents and can be completely housetrained by 6 months of age.  For puppy parents that may occasionally need to leave a young puppy alone for a extended period of time, we recommend using our litterbox set up.  Since the pups are accustomed to this, it will ensure your puppy doesn't potty in an inappropriate place and therefore won't delay housetraining success or interfere with outdoor . 

Puppies are bathed, nails trimmed, brushed etc. as needed until about 4 wks of age.  Then we begin bathing, blow drying, shaving face, feet, etc every 7-10 days until they are placed in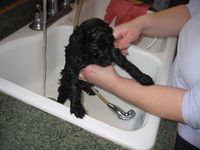 to their new home.  This give our puppies a lot of grooming experiences so they learn from early on to tolerate and even enjoy being beautiful.

We have many puppy socials for friends, family and potential puppy families to come and play with the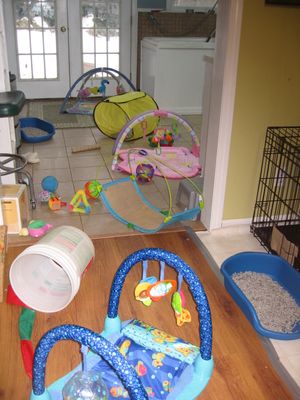 pups as they grow.  They go to work with me several times a week for extra socialization at the animal hospital.  Their environment is heavily enriched with toys, agility, & other play equipment, CD's that play sounds of fireworks, thunderstorms, kids playing, babies crying, vacuums & other household noises.  They each spend an overnight with a coworker at 7wks of age.  Professional temperament testing is done off site at 7.5wks. 

The puppies begin crate training at 5wks of age by spending just a few minutes in their kennel at a time.  Crate time is always associated with something positive, a snack, meal, or toy.  They are sleeping in individual crates at night the last week they are here (they can go about 4hrs before needing a potty break). 

Clicker training with simple behaviors is also started.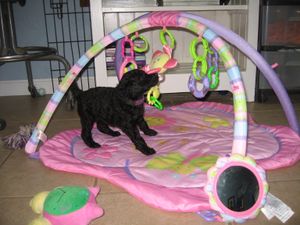 Each puppy is worked with separately and has been shaped to sit, lie down, and hand target minimally.  By the time they are ready for their new home at 8wks they are primed for learning, are used to a routine and fit almost seamlessly into your home.
Our high quality pups have a 2yr genetic health guarantee.  Companion puppies are sold  with AKC limited registration and written contract.  They go with a current health certificate, complete medical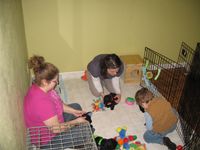 records, age appropriate vaccine(s), negative intestinal parasite test and microchip.  We also include an extensive puppy care package with Heartguard Plus (1st month), Advantix (1st month) toys, food (canned & dry), training books and manuals.  We fill a binder with numerous handouts on socialization, crate training, housetraining, stages of development, predictable problem behaviors, copies of both parents heatlh testing certificates, photos, pedigree etc.   

We choose the puppy best suited for you based on your color and/or sex preferences and the temperament and energy level desired in your adult companion.
  We get to learn exactly what you are looking for by your answers to our detailed p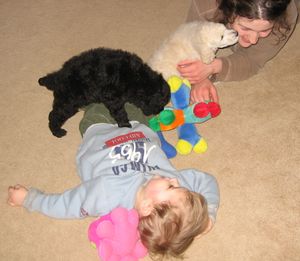 uppy questionaire, our phone and email conversations and when we meet in person.  Nobody knows puppies' individual temperaments better than an observant, educated, caring breeder (us).   We've lived with them for at least 8wks and have observed and played with them in many different environments and under different conditions.  We also have them temperament tested by a professional Canine Behaviorist.  For accurate helpful results, it is important to know how the testing procedure must be performed and the person interpreting the results must be well experienced.  The testing is performed exactly the same for each puppy off site in an unfamiliar location by an unfamiliar person. 
As your pup grows we encourage updates on how they are maturing and welcome photos.  Many owners still enjoy sending pictures years later.    

Although it is our goal to only produce long-lived, healthy, happy Poodles we know that is not always possible.  We are here to provide support and answer any questions you may have along the way.  To help us make informed breeding decisions in the future we require that you let us know about any health or temperament issues that may arise that have potential heritability.  We also encourage you to register your Poodle with the Poodle Health Registry Database (www.poodlehealthregistry.org) if they are affected with any health or temperament problems (previously owned Poodles can also be registered). 

In the event that you can no longer care for your DoeValley Standard Poodle we will always welcome them back.  We will work t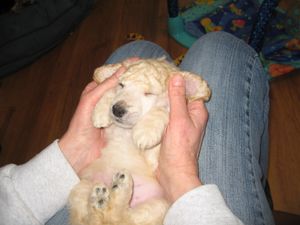 o find an appropriate home for them.  Under no circumstance should they be given to a shelter, rescue or resold through a Craigslist like advertiser.  We want our puppies to be loved and taken care of their entire lives and not inadvertently fall into unscrupulous hands.

What we ask of you...  The families we choose to be guardians for our DoeValley puppies
are as special as the puppies themselves.  We ask that you do your research and educate yourself as much as possible,  We will only sell to families that have demonstrated a genuine commitment to ensuring our puppies grow up to happy, healthy, well socialized, and loved for their entire lifetime.
                     


    .......a responsibly bred puppy that will bring you years of enjoyment and pride!